The Kitchen

It is here in Leonard Marx's kitchen where police found the potato farmer's bloody corpse. Although at first deemed a suicide, the county coroner determined that the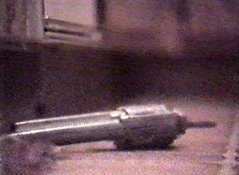 revolver found at Marx's feet, covered with his fingerprints, had not been fired by Marx himself. Marx had no gun powder residue on his hands, and the gun had apparently been wiped clean before he touched it. Whoever did shoot Leonard Marx did so at point blank range.
In addition to some diminutive muddy footprints determined to be left by a barefoot boy, investigators discovered a half-eaten potato on the kitchen table, perhaps consumed by the murderer himself. The bite marks did not match the dental records of the potato farmer, nor anyone else on record, but did appear to belong to a child around ten years old.
Also of note here in the kitchen is the antique telephone from which Leonard Marx made his last informative call to the police. Click on the telephone to hear a recording of the miser's last known words in life, courtesy of the Crooked Corners Police Department:
After analyzing this recording, police investigators returned to check the sink and found a number of pieces of straw and some blue denim thread clinging to the sharp tines of the garbage disposal. It has been theorized that the assassin wore a straw hat and a pair of blue overalls and had a small enough stature to sit in the sink while awaiting his victim. The reasoning behind such peculiar behavior is speculative at best.
---