Winter 2000 Edition
---
Lone man shoots 200 schoolchildren
By John Tiddleson, senior correspondent
Hubert T. Morton, a 43-year-old loner, entered Crooked Corners Elementary school yesterday and opened up a barrage of compliments to get K through 5 youngsters to smile for the camera. Class picture day doesn't come easy to these kids, especially after last year's bloody horror, when Morton cut his hand on the steel aperture of a key light.
"To this day I remember the carnage," said gym teacher Jo Bushker. She tried to describe Morton's screaming, but broke down in tears. "I'm usually much more macho than this," she said. "I'm sorry."
Security was tight this year. Morton promised to employ a variety of safety measures to avoid the same tragic events, including using fireproof duct tape around the edges of all sharp objects. He also promised not to swing his arms about with such alacrity when trying to get kids to laugh. That behavior last year caused Morton to slice the back of his hand wide open.
"After seven operations, I can almost get my middle finger to bend," he told reporters. "I still use a mechanical switch attached to my mouth to snap the photograph."
Morton uses his good hand to count from five to one before he takes each picture.
---
Sociologist fears invasion of Panolandian mutants
By Liza Rowls, beat reporter
Professor James J. Gramlich has warned that Crooked Corners is in danger of becoming a "welfare haven for wayward grotesques."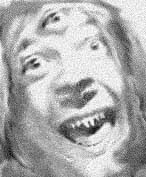 In a published report in Crooked Corners University Science Digest, Gramlich notes that rumors of radiation-ravaged residents growing third noses and superfluous tusks have become less hearsay and more anecdotal in recent months as immigrants arrive on local soil. "We've all stood in the grocery line with someone who has a finger growing out of his neck," he writes.
"Our open-door immigration policy is like a green light to freaks. We must immediately revise this policy and in fact backdate it in order to implement a system of weirdo removal."
"In the past it was fine to have a welcome mat outside our door because no one wanted to come here," writes Gramlich. "But apparently anywhere is better than Panoland right now."
He adds that Panoland citizens, driven from the countryside by the fallout of failed nuclear tests, have developed a taste for potatoes. "I will not attempt to explain this aberration--it may simply be a reaction to a lack of starch in the diet--but it makes Crooked Corners a hotspot for mutants craving a good tuber."
---
Vacuous TV actress regales Crooked Corners with uninformed opinions about hot-button issues
By Sinclair Growden, special reports
Hundreds of bimbos and brain-addled boneheads gathered this weekend to celebrate their common b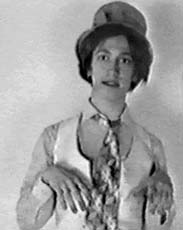 ond.
The annual Airhead Convention, held every five years, met at the White Trash Mart Auditorium. The guest speaker was Amber Ashland, a large-breasted waif who has appeared on such popular shows as "Tales of the Cool Cricket" and "The Vacuum Tubes of Terror." She began her scheduled talk by revealing to the audience that she, too, had been an abused child and went on to say that cows should have the same rights as everyone else and that guns are bad, not people.
"Next time someone points a gun at you," she said, "Just say no!"
The actress complemented her speech by a clip from an episode of "Vacuum," in which she screamed "no" several times while confronted by an armed marauder.
"Wow," she said afterward. "I look so fat on TV."
The audience hooted and hollered and several members of the crowd banged their shoes against their heads. "I'm so proud," Amber cried, "to be proud today as a proud part of the Airhead Confection."
When asked by this journalist how Miss Ashland can feel proud of representing people who know the theme song to "The Brady Bunch" word for word but don't know the name of the President, she replied, "Brainy people like you don't understand. Life isn't about all that."
From somewhere in the back of the crowd, two heavyset gentlemen approached with a crowbar and a gunnysack. "But this article will be printed in several national newspapers!" shouted this journalist.
"Tell someone who cares," Miss Ashland quipped. "If it isn't in Entertainment Weekly, it isn't news."
At that point extreme head pain overwhelmed this reporter followed by an all-consuming darkness.
---
Officer Harold caught with pants up
By Henrietta Potstocker, old bat
In what no one is already calling the scandal of the new millennium, local police deputy and eligible bachelor Officer Harold was caught white-handed doing nothing wrong as he walked his beat today.
"He was whistling, so we were sure something was up, but it turned out he was clean," said Crooked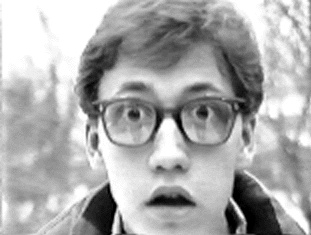 Corner's Sheriff, Mr. Chief. The Crooked Corners City Council has urged Chief to weed out corruption on the police force, a task he has not yet accomplished.
"We try every day, but having a staff of two makes the Council's mandate rather difficult," Chief said. He added that they may hire another officer if the crime rate increases, which it is sure to do once the economy sours and teenagers have no money to spend on booze and crack. "But adding officers to the department doesn't guarantee corruption," he stated.
Almost two years ago, Harold's alleged involvement in the still-mysterious fire at the mansion of posthumous mayor Leonard Marx compelled townspeople to demand a closer watch on police activity. But residents admit that specious reasoning prompted the move. "Even when he was accused of arson," his mother said, "everyone knew it was just for fun." Her son was later acquitted of all charges.
Harold is on temporary unpaid leave between shifts and will return to work as scheduled tomorrow at 8 a.m., unless he stops to pick up some bagels at Sue's Cafe downtown.
---
Developers plan "asphalt oasis" at Cool Cricket Meadow
from wire reports
The boom in new residents and shortage of living space in our fine town has prompted City Council members to acquiesce to a housing project planned for the former site of Cool Cricket Chemical Testing Grounds. It became a nature park in 1998, but lack of visitation by the public has made the place a breeding ground for wild things.
"Building several thousand homes and condominiums will help bring people here," said Connie Mendoza, spokeswoman for As Many Acres As We Please Reclamation Corp. She noted that a positive side-effect of human population growth is elimination of other species. "Creepy-crawly things are the enemy here at AMAAWP," she added.
Park custodian Tiger Moody bemoaned the end to his position as caretaker of the doomed park, but noted that he will now be able to spend more time with his family. "The missus and I ain't got jiggy wiff it for goin' on nineteen years," he said. "I was kinda hopin' to keep up the trend, but ain't no thing. I just feel sorry for the skeeters and the skunks."
A groundbreaking and immediate "clearification" of the untamed land is planned for spring, at the first sign of the snow melt.