Summer 1999 Edition
---
Lethal triumph!
Return of maid marred by untimely fall to death
By Liza Rowls, with reports from Rockefeller Stone
After nine months of tortuous servitude within the semi-tamed jungles of Panoland, Millicent Wicker returned home to Crooked Corners yesterday, smiling and appearing healthy. Upon stepping off the airplane, however, the hapless housemaid's heel
caught, and in her strenuous attempt to extricate herself, Miss Wicker stumbled and plummeted 15 feet to the hard pavement below.
Onlookers struggled not to laugh as a doctor proclaimed her dead at the scene.
Miss Wicker was abducted in September last year by terrorists in need of a woman good with a sponge. In spite of efforts by local police hero and media darling Officer Harold to rescue her, attentions gradually turned from the able-bodied servant's plight. "Secret" nuclear tests conducted by opposition forces inside the nation to which the maid had involuntarily immigrated upstaged her tale of woe, as the explosions decimated much of the Panoland countryside.
It was apparently those unsuccessful atomic bomb launches which distracted her kidnappers long enough for Miss Wicker to escape. American Embassy officials flew her home, but the Crooked Corners Airport does not provide direct terminal ingress, and one must disembark via a portable metal stairway that leads to the ground. Unfortunately, Miss Wicker's speedier method proved ill-advised.
---
CCUSD bans moment of silence
By Sinclair Growden, special reports
After a unanimous vote of the school board, the Crooked Corners Unified School District will no longer allot students the 60 seconds of quiet time previously provided to ponder the origin and design of the earth and heavens. Superintendent Marie Basler stated that the board came to the decision because students were thinking about unrelated topics. As opposed to prayer, "children were not using the time wisely," she said.
The "moment of silence" itself replaced the long-practiced "moment of stupidity" allocated as reverence to the Judeo-Christian notion of a one, true god. That ended when a Panolandian exchange student began demanding eight moments of silence a day so he could give thanks to his various deities.
Now the board has eliminated all opportunities for superstitious expression, since school counselors determined via a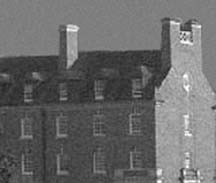 confidential survey that students were using the minute-long silence to think about anything but religion. "Boy students primarily fantasized about sex," said Basler. "Girl students were concerned about their hair, their homework and color coordination in their wardrobe."
There were a couple instances in which a girl student thought about sex and a boy student worried about his hair, but those surveys were discarded, believed to be either silly pranks or filled out incorrectly.
The intellectual elite has long equated prayer in public schools as akin to demon worship, although it has been determined that the leader of the ban was murdered along with her adult children some years ago. In the end, her Atheism couldn't save her.
Still, during an impromptu interview of eighth graders, youngsters confided that they continue to practice a "moment of silence" or utter short words of prayer on their own throughout the school day. "Often before the bell rings, I pray that Aaron will not throw me against the lockers when I'm walking to my next class," said one mild-mannered boy, caressing his shoulder as he double-timed the perilous journey to social studies.
Another student told of a mantra she repeats on her way to the lunch cafeteria: "No more tater tots. No more tater tots."
In fact, at a recent after-school sporting event, many cap-and-sweatshirt-clad attendees witnessed one student blurting out the words "God" and "Jesus Christ"--intermixed with various expletives--when some fellow athletes slammed into him and broke his leg. After the boy passed out, he was suspended for remaining silent too long at a school-related function.
Despite widespread mutterings interpreted as criticism, school board officials remain steadfast in their decision. In its official statement, the board noted, "We should not allow the children of Crooked Corners to think on their own. In this way we avoid God's wrath."
---
11-year-old still reeling from garbage find
By Liza Rowls, beat reporter
The unidentified girl who last year discovered a row of metal cans filled with refuse in an alley behind her house still sees a therapist three times a week and still wakes from nightmares of the horrific event.
"We thought for a while she was getting along better," said the girl's mother, "but when a garbage truck ran over the cat last month, she lost a lot of ground."
The feline was the same pet the little girl had been searching for a year ago when she came upon the discarded trash.
Calls to the Crooked Corners Police Department revealed that the person or persons who left the unwanted waste have not been located. "We never tried," explained the sergeant on duty.
---
Man sues bar for sex discrimination
By Henrietta Potstocker, aged but hip regional reporter
"All I ever wanted to do is dance," says comic-book collector and Internet news group aficionado Gus Johnson, "and they say I can't."
He can't, if a Crooked Corners bar has its way, because he's not a buxom young female with tawny skin like the finest satin and the ability to wrap his tongue around a metal pole.
"I have big bosoms," Johnson insists. "And I'm willing to work on my moves." He has charged the bar owners with employment discrimination for denying him a job based on gender. "They also said I'm too fat," he claims.
Seedies is the hangout of many weary potato-field workers after a long day of dirt furrowing, just off the main road a few miles out of town. Owners Bing and Bob Lamour built the acre-sized metal shed to house farm equipment, but during an economic downturn in the early '90s converted the storage space into a giant strip club with three stages and a mud-wrestling pit.
"We welcome Mr. Johnson as a customer," the Lamours stated in an official press release, "but our boys have particular interests, and Mr. Johnson's considerable girth is not one of them."
However, at least one regular at Seedies confided that Mr. Johnson's jubilant public audition seemed "pretty good" after a long night of booze-swilling. "I pay to see body parts a-jigglin'," said Tiger Moody, "and ol' Gus has that part down to a fine science."
Johnson's lawyer is Babs Mayfield, who recently quit public service after a scandal involving the police department to begin her own private practice. At the pre-trial hearing, she argued, "This kind of blatant prejudicial treatment toward a perfectly qualified job applicant is obviously a gross violation of current law." Miss Mayfield denied that she is desperate for clients. Her response to the defense's allegation was a fervent "Nuh-unh!"