April-May 1998 Edition
---
Trial set in Harold arson case
by senior correspondent John Tiddleson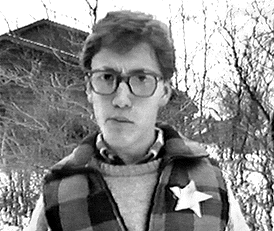 A county judge scheduled a preliminary trial date yesterday for Officer Harold, the beloved local deputy accused of attempting to burn the mansion of Mayor Leonard Marx to the ground.
Judge Beatrice Baubles set bail at $11.00, an amount quickly paid by the author of this web site in order to move this story forward. The trial has been set to begin in June, "if necessary," in the words of the Honorable Baubles.
The strikingly handsome Officer Harold had little to say about the investigation. When spotted outside the popular Sue's Cafe with a mouthful of scrambled eggs and banana chips, he responded to reporter queries by enigmatically muttering, "It's a hearing of some sort, I believe."
It is unclear whether Harold is aware of the details of the charges against him, but he has apparently decided to represent himself should the case warrant a full trial.
While footprints found at the scene allegedly match the pokey-quick thrust-retreat oscillation of Harold's characteristic walk, forensic research has not yet returned a positive match to the officer's footwear. Nor, according to county prosecutor Babs Mayfield, have investigators found any other evidence linking Harold to the sight of the massive fire which destroyed the west wing of the infamous Marx home in February.
"It's a total witch hunt," Miss Mayfield admitted at a recent press conference. "Officer Harold is just too popular, so we accused him of committing a crime."
---
War averted for now, Nagu on vacation
by world reporter Rockefeller Stone
Liberal lollygaggers have at least a two-week reprieve from the threat of war while P.L.O. commander Agu Nagu skis the slopes of Short Mountain in Farapay, Panoland's next-door neighbor.
The ultra-conservative Panoland Liabilities Organization remains inactive during such idle trips, but plans to resume its malicious attacks on the character of fellow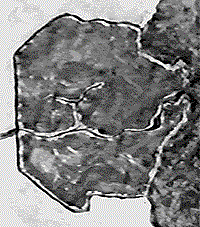 countrymen once Nagu returns. He is in charge of coming up with the gravest insults against left-wing rebels whose party-hearty outlook clashes with the P.L.O.'s anti-tomfoolery stance.
Meanwhile, official permanent interim president Trent Sarkisian, whose name was misreported earlier as Colin, rests comfortably after passing several hundred large kidney stones, assisted by an imported French urologist. Although like the rest of the world the French have not officially recognized Panoland as a nation, it is widely known that Parisian medical specialists practice their wares in the embattled country's inner territories in exchange for hookers and beer.
The respite from terrorism has many citizens out on the streets to shop and trade while they feel safe. One storekeeper told this reporter that sheep gut sales were up over 900 percent. Sturdy and plentiful, stripped sheep gut is the only available means of contraception in most areas of Panoland. Goat intestine is found in the wealthier neighborhood of Febrolay Heights.
At present, apprehension of Nagu's return is tempered by large-scale midnight orgies. More from Panoland in my next report.
---
Marx mansion repairs on schedule
by beat reporter Henrietta Potstocker
The notorious haunted mansion of Leonard Marx, posthumous mayor of Crooked Corners, will reopen sometime in the fall, according to curator Ashton Bucheger.
"Last year's phenomenal ticket sales filled the coffers with enough capital to manage this sort of setback," said Bucheger during a telephone interview. "Unfortunately, it is impossible to replace the lost burlap potato sacks with were a high point of the tour." Also believed to be destroyed was the gun used to shoot Marx, but in March a repairman found it hovering in mid-air near the foyer.
Until earlier this winter, tours of the estate had steadily risen every year. Visitors have paid millions of dollars to catch a glimpse of the stingy old miser's residence, where he ruled like a spoiled despot over the meek citizens of Crooked Corners until assassinated some 12 years ago.
Flames threatened to consume the home in February before an unexpected rain shower eradicated the fire. The unusual weather phenomenon was not, according to Channel 11 meteoroligist Gay Monet, a part of El Nino, which has reputedly wreaked havoc elsewhere in the nation, but left the town of Crooked Corners and the rest of the county unscathed.
---
Child stumbles upon possible archeological find
by Liza Rowls, special reports
A young girl, searching for a lost cat in an open manhole, discovered a mysterious network of pipes and underground tunnels near her home in Crooked Corners on Friday.
The 10-year-old girl, whose name has not yet been released to the press, ventured several feet down a ladder leading into the darkness. "It smelled bad," she is reported to have exclaimed upon her return.
Police joined the girl in her search, and numerous calls of "here, kitty, kitty," were made to no avail. So far no one has claimed ownership of the pipes, and it is unknown what will result from further exploration into the apparently vast expanse of underground passageways.
Reaching as far into the manhole as possible, off-duty deputy Officer Harold grabbed what he thought was a cat, but it turned out to be a "large rodent of some sort." Its squealing caused many headaches in the vicinity.