A member of the Crooked Corners Police Department received a blow to his ego as well as his posterior Saturday aft
ernoon when discussing the missing leader of the mutant insurgency movement.
Officer Harold, age unknown, was reportedly standing next to the evidence desk in the midst of a phone conversation with the Chief of Police when the third hand of Boohoomi Dal, Jr. became spontaneously animate and slapped the unsuspecting cop on the behind.
"Behind" is a polite euphemism meaning "bottom" or "seater."
The fugitive Boohoomi Dal, Jr. became infamous last winter as the alleged ringleader of a genetically screwed-up mutant group that crashed a potato truck into a grain silo, killing one chicken and raising the stress level of a small herd of sheep. His particular mutation as a result of the radiation of his homeland Panoland is a tertiary hand that rises atop his head like the crown of a rooster. It is complete with thumb and four fingers.
The superflous appendage was found either discarded or shed in an alley behind a local strip joint last summer. It had a firm grip on a power line and seemed to be deliberately avoiding the path of a drunken man who had "gone out back to visit a man with a pony."
The posterior-slapping of Officer Harold came as a complete shock because witnesses had deemed the hand a lifeless bit of tissue and bone.Though red-faced from embarrassment, Harold promptly cuffed the hand and brought it to the jail cell where it awaits preliminary charges of assault.
---
Church Opens Despite Holy Hurdles
By Henrietta Potstocker, aged WASP
Rising grandly from a formerly weedy acreage on the dry edge of Crooked Corners, the new and yet eminent First Temple of the Exalted Orthopteran has opened.
Spiritually devoid naysayers have lost their battle to turn the empty lot into a Communist greeting card factory.
Although Mayor Ronald Flint declined to endorse any particular religion, he did appear open to the idea of a place where townspeople can commune and fulfill their psychological need to be part of something larger than themselves. "I don't care much for superstitious hullabaloo myself, but if it keeps the moonchildren off the streets, more power to 'em," he said.
Kire Ilguah, the serene prophet of the new faith, says that the Exalted Orthopteran is not a religion per se. "It is a distinct set of beliefs. The temple is a place where people can meditate on the tenets of the Cool Cricket. One needn't have had my experience."
Ilguah claims to have had a divine experience while walking through the woods wearing purple shoes.
The temple is constructed completely of recycled paperboard and discarded license plates and exceeded its proposed cost of $16 billion to become the most expensive place of worship west of the moon. The end total was $91 billion.
"We did not expect mutant labor to be quite so expensive," Ilguah explains. "Also the statue of myself cost many a penny."
At least a dozen migrant mutants from Panoland were hired to erect the gigantic idol of Kire Ilguah. Two of them disappeared when faulty scaffolding collapsed. "They're underneath the statue somewhere," Ilguah says, his face composed in a benign expression of all-encompassing love.
Despite these setbacks, funds for the temple continued to roll in from huckstered old folks, and with construction complete, Ilguah hopes to see a grand rebirth of spiritualism in our county. "Only after we have heard the glorious chirps of the cricket can we be fulfilled," Ilguah says.
---
Potato Futures Rebound
By Sinclair Growd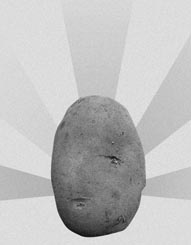 en, mathematics graduate
After many dark years of bad crops and over-consumption, the future of tubers looks bright.
Having learned that they can buy starch over the counter and that many other foods contain the complex carbohydrates necessary for their peculiar diet, Panoland mutants have reduced their intake of potatoes. This bodes well for native townspeople living in fear of another silo attack like the one last year. They can now, as resident Tiger Moody put it, "feel free to eat rippled tater chips in public without being spit at."
As anxiety settles and citizens resume their routine lives, it is hoped by many that Marx Potatoes Limited will not claim a deficit this year and will return to the profitable days of old. Mark and Monica Monet of Crooked Corners Heights have a particularly high stake in the upcoming fiscal report of the 80-year-old company, as the state of their finances has been "excessively" weakened as of late, and they were, for example, unable to buy their son the dress he wanted for his birthday.
The development is also good news for Crooked Corners Mayor Ronald Flint, who some members of the media accused of being in secret alliance with potato producers in order to bankrupt the Monets and fiddle with mutants' sensitive feelings. Flint vigorously denies any wrongdoing.
Statistically in the past, potato exports from this county have provided the largest percentage of income, followed recently by medical research paid in large part by charities attempting to solve the multifaceted problems of the mutant community. Dollars brought in by Internet tourism (to the town's web site "Crooked Corners Webside Stop") placed a far distant third and are still considered insignificant.
Many thanks to Liza Rowls, a fellow Gazette correspondent, for contributing to this uncompromisingly dull report.